/

/

/

Student Preachers
(Page 2)
Student Preachers
This summer seven of our student preachers attended the 16th Annual Dominican High Schools Preaching Conference in Adrian, Michigan. The conference empowers high school students to discover and deepen the preacher within themselves through prayer, study, community and interaction with members of the Dominican Family. This year, 26 Dominican High Schools (104 students) from all over the United States and Puerto Rico attended.
The seven new preachers join the three current preachers bringing the total for the 2014-2015 Preaching Team to ten!
For several years, Mrs. Marcia Peyton, DHS class of '78 and a current personnel member and Sr. Pat Harvat, O.P., Vice-President, Dominican Catholic Identity have accompanied the preachers to Michigan.
St. Mary's Dominican High School in New Orleans has sent student representatives to this Preaching Conference since its inception in 1999.
The DHS Preaching Team arrives back at school each August, ready to continue in the footsteps of St. Dominic. They participate in the student body masses, plan and lead prayer services, write and deliver the afternoon prayer to the entire school community each afternoon, help with the retreats for the underclassmen, represent Dominican at off campus events, visit with the Dominican Sisters living at the Motherhouse, and by their visibility on campus, bring the Dominican pillars of Prayer, Study, Community and Service alive to all they encounter.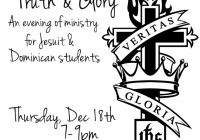 Dominican students are invited to attend Truth & Glory, a night of ministry for Jesuit and Dominican students, on Thursday, Dec. 18, 2014, at 7:00 p.m. in the upstairs chapel at Dominican High School. Archbishop Aymond will be present to welcome students, and the night will include 30 minutes of adoration with music and a …Continue Reading
---