Forty-seven students at St. Mary's Dominican High School were inducted into Mu Alpha Theta (MAO) during recent ceremonies. MAO is the national high school and two-year college Mathematics Honor Society with 105,000 student members in more than 2100 schools.
The honor society is dedicated to inspiring keen interest in mathematics, developing strong scholarship in the subject, and promoting the enjoyment of mathematics in high school and two-year college students. Guest speaker Katie Yurgil, PhD, Assistant Professor of Psychology at Loyola University, is a 2001 Dominican graduate and served as an officer of MAO.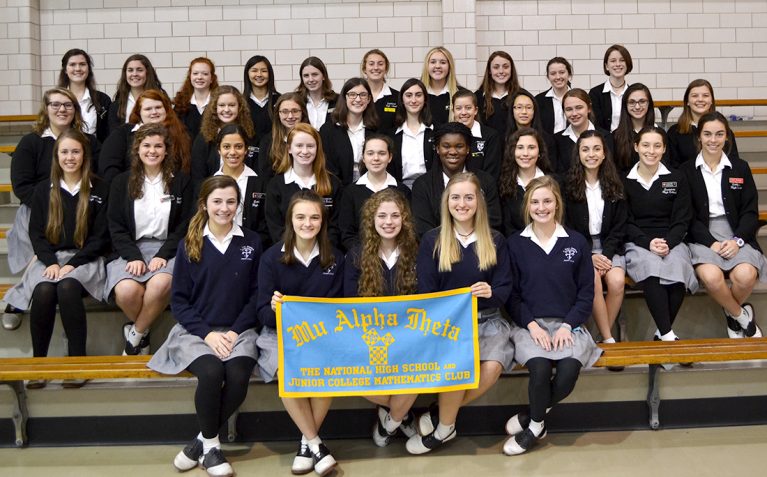 St. Mary's Dominican High School students inducted into Mu Alpha Theta at St. Mary's Dominican High School are:
Front Row 1, (from left): Seniors Abigail Buchert, Alison Donnes, Abigail Hebert, Madison Holmes, and Zoe Mysing.
Row 2: Juniors Alyssa DeLattre, Chloe Dusang, Sofia Hill, Anna Hinyub, Celeste Maffei, Chizoba Ogbuefi, McKay Resor, Katie Sciortino, Gabrielle Terranova, and Laney Thomson.
Row 3: Sophomores Bridget Adam, Rachel Baril, Melissa Berner, Renee Breaux, Halle Briede, Audrey Buck, Lilian Cerise, Victoria Cheung, Brooklyn Comeaux, Emma Duckworth, and Susan Endom.
Row 4: Sophomores Addison Hall, Caroline Hensely, Rebecca Koenig, Victoria Liu, Sophie Ondrusek, Cole Pittman, Katherine Schaumburg, Abby Slattery, Caroline Troendle, and Abby Webb.
(Not Pictured): Juniors Jennifer Baker, Lan Le, and Olivia LeBlanc; Sophomores Caroline Bickerton, Julia Bogart, Catie Cabes, Alison Dupre, Claire Karcher, Elise Peyroux, Savanah Rodrique, and Mackie Smith.