St. Mary's Dominican High School saluted students for achievements in academics and service at the end of the school year Academic Honor Day. Student award recognition included District Rally, State Rally, Louisiana Music Educators Association, National French Contest, National Latin Awards, and National Spanish Examinations. A Salute to Seniors presentation recognized seniors in the National Honor Society, National Art Honor Society, Mu Alpha Theta, Tri-M, Honors Programs, and also Advanced Placements, National Merit Recognition, Honor Graduates, and colleges and universities acceptances.
Senior O'Brien Alley and 8th grader Catherine Bickerton were nominated for the Students of the Year Awards Program, designed to recognize outstanding 8th and 12th grade students. The program is sponsored by the Louisiana State Superintendent through the State Department of Education and the State Board of Elementary and Secondary Education. It recognizes students who have demonstrated excellent academic achievement, leadership ability and citizenship.
School President Dr. Cynthia A. Thomas (right) presented The Knights of Columbus Award to Kristina Plunkett. The award is given to the senior who has displayed the principles of charity, unity, fraternity, and patriotism and in doing so has displayed the highest degree of citizenship by helping others especially those less fortunate.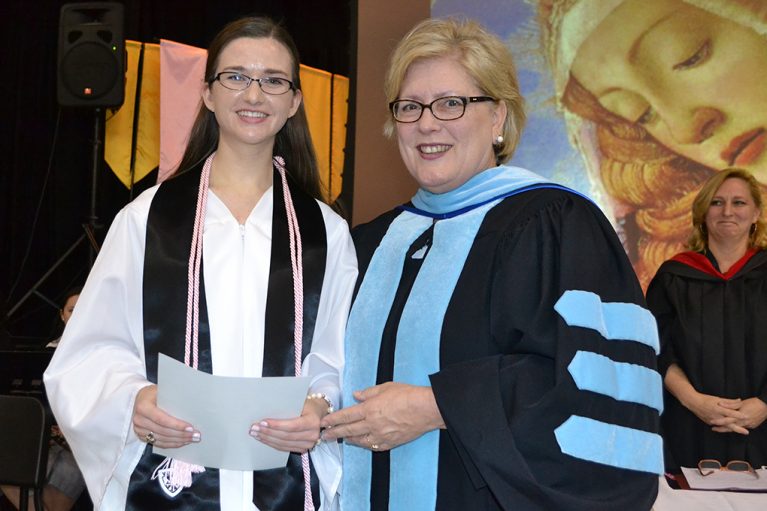 Kristen Williams (left) received the St. Mary's Dominican College Corporation Scholarship, presented by Sr. M. Dominic Savio Estorge, O.P. The annual scholarship is given in memory of the Dominican Sisters of St. Mary who established, maintained and supported both St. Mary's Dominican College and St. Mary's Dominican High School. Graduating seniors who have been accepted and are attending a Catholic college or university have the opportunity to apply for the scholarship.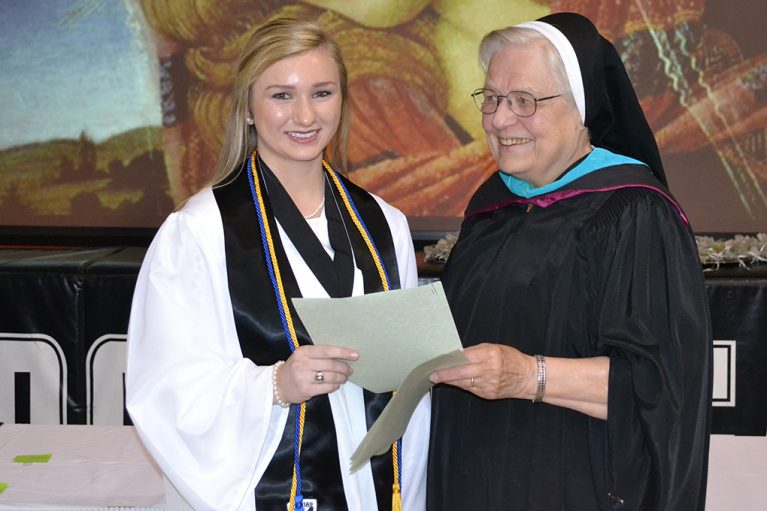 Sara Keimig, Admissions Counselor, LSU Office of Enrollment Management, presented senior Jessica Schaumburg the LSU President's Alumni Scholars Award. The Award is given to the top 10 entering freshmen with a competitive ACT or SAT writing score submitted to LSU and are selected to compete through an essay, résumé submission, and faculty panel interview. The award covers the full cost of attendance at LSU for four years, $2,000 study abroad stipend, and $1,550 per year to earn through President's Future Leaders in Research Program.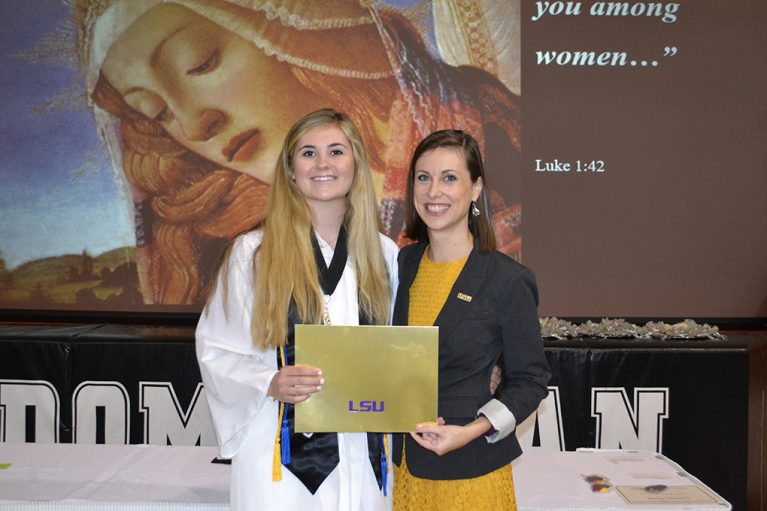 The Latoya Cantrell District B City Council Citizenship Award for excellence in education and outstanding service was awarded to seniors Kensley Villavasso (left) and O'Brien Alley.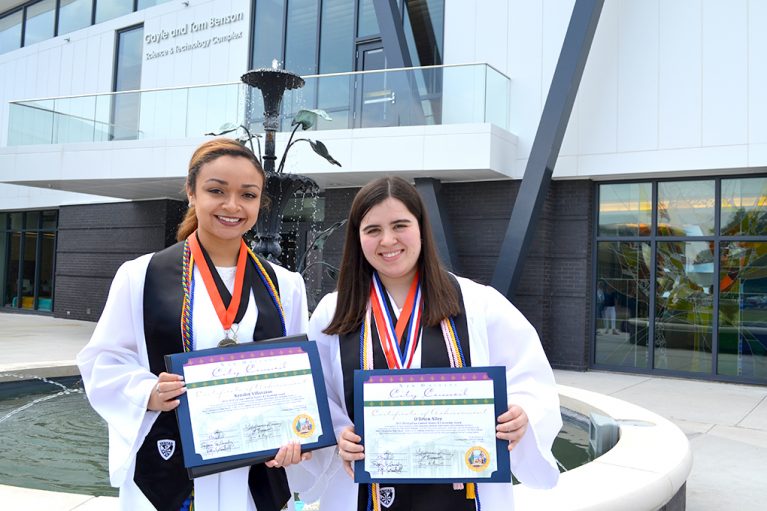 The 2015-2016 Executive Board was presented medals in recognition of their outstanding leadership and service. Officers were Mallory Grefer, President; Rita Kelly, Vice President; Sadie Herbert, Secretary; and Meredith Larriviere, Treasurer.