Following tradition, May Crowning/Academic Honor Day began with a procession of leadership, faculty, and members of the Class of 2016 into the Sr. Ambrose Reggio, O.P. Gymnasium.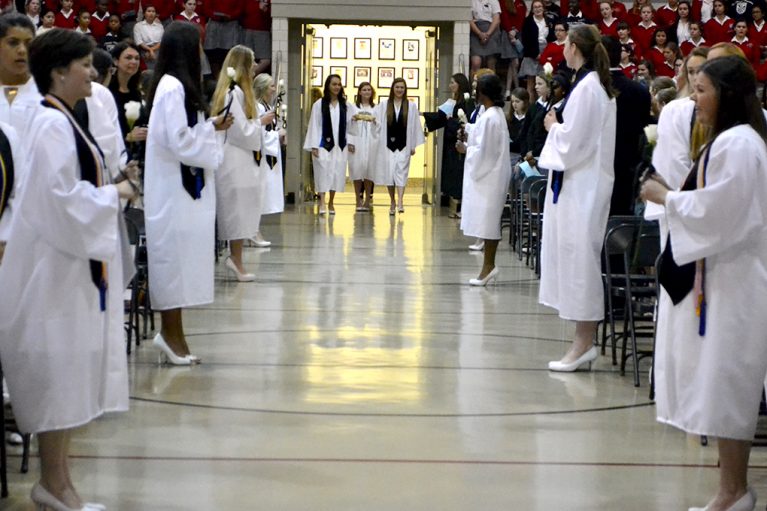 Following the May Crowning, senior and student preacher Laura Youngblood gave a reflection about Mary, "the most beautiful example of a mother that we have."
May Crowning 2016 by Laura Youngblood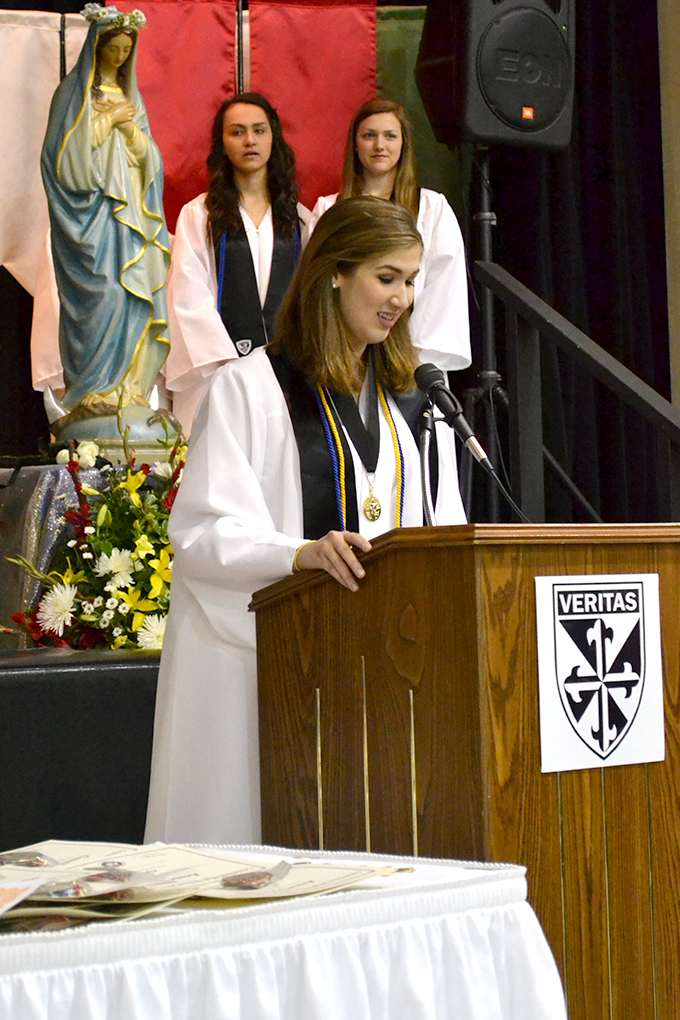 When I think of Mary, I feel a little intimidated. Who wouldn't feel nervous around the most perfect model of chastity, of inner beauty, of humility and of purity; the golden vessel, chosen to carry the most important life the world will ever know. I know that I want to be perfect like Mary, and I was always told that I should try to model my life after hers. It's easy to forget that when we strive to be like Mary, we are not striving to BE Mary. It would be impossible to be as perfect as Mary because she was born without sin. Instead of feeling depressed and defeated, I chose to see Mary in my own mother, in my dad, in my teachers, and in my friends.
We all have that one friend that acts more like a mother than a friend. In my case, I always get chosen as the "designated mom friend". That could be because I always have Aleve, water bottles, and granola bars on me at all times. It could also be because of my constant need to take care of my friends. I will always ask a friend to text me to let me know if they have gotten home safely, and I will always interrogate a friend's new boyfriend out of a motherly instinct. I love caring for everyone, calling everyone my "small child" or my "babies", but it's hard for me to truly understand what being a mother is like.
I don't try to claim to know what being a mother feels like, but I know how being around my mother makes me feel. Yes, sometimes I feel irritated and annoyed and I just want her to learn how to work the WIFI router by herself, but overall, I feel an immense wave of love, comfort, and support. In this way, I feel more connected to Mary. She was a mother just like my mom. She cared for Jesus the way my mother cares for me. Although Mary is everyone's mother, if I can treat everyone the way my mother treats me, I will be attempting to be like Mary.
We are all called to be mothers in one way or another, some actually becoming moms with a family and many small children, and some simply being mother-like to everyone they meet.
Mary is the most beautiful example of a mother that we have. We learn that she was humble and meek, showing us a model of kindness. She was faithful and always trusted in God, even when she had no idea how her life would be changed by having a child. Not all of us are called to be mothers, but we are all called to act as mothers to others. We are called to be meek and humble; we are called to be filled with faith. Sometimes, It is a challenge to live out that call. I always try to imitate Mary, but sometimes I fall short and want to give up. However, it's so simple to pick up on little characteristics of Mary in everyone I meet, and I find inspiration to try to be more of a holy person. Every time someone does something kind for me, I think of Mary. Mary is the ultimate nurturing mother, caring for all of us today. So, I strive to be like Mary, and my mom, and my friends. Because when a friend or classmate calls me "mom", I feel like I must be doing something right. Let us reflect today upon Mary as our mother and how we share those qualities of a mother with other people.
Let us say together the Memorare…..
Remember O Most gracious Virgin Mary……