At St. Mary's Dominican High School 50 students were inducted into Mu Alpha Theta (MAΘ) during recent ceremonies. MAΘ is the national high school and two-year college Mathematics Honor Society with 105,000 student members in more than 2100 schools.
The honor society is dedicated to inspiring keen interest in mathematics, developing strong scholarship in the subject, and promoting the enjoyment of mathematics in high school and two-year college students. Guest speaker was Claire Pivach, DVM, a 2003 Dominican graduate. MAΘ moderators are Katie Belou and Kristen Bernard.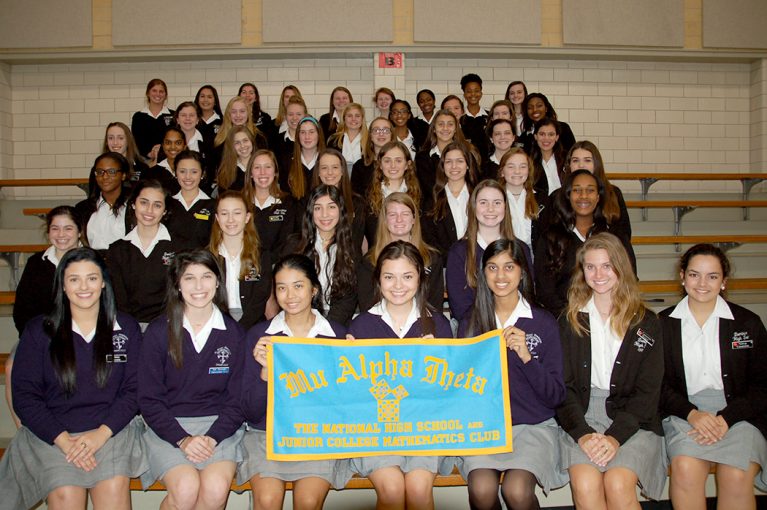 St. Mary's Dominican High School students inducted into Mu Alpha Theta:
Front/Row 1, (from left): Reice Acosta, Katherine Alexander, Eva Doi, Emma Hurley, Yasmeen Khan, Cameron Berger, and Nina Casanova.
Row 2: Rebecca D'Antonio, Alison delCorral, Sara Gautreaux, Jeanine Halum, Emily Johnson, Mackenzie LaPlace, and Tia Peck.
Row 3: Nia Smith, Dina Alawamleh, Kendall Alfortish, Virginia Babin, Elena Bateman, Kathleen Brechtel, Colette Carriere, and Julia Cazabon.
Row 4: Elise Cresson, Saheba Cuccia, Anne D'Armond, Madelyn DeRamus, Rose Doskey, Corinne Ferry, Mackenzie Foret, and Patricia Jackson.
Row 5: Margaret Latham, Katherine Mazzanti, Kassidy Meredith, Isabelle Mermilliod, Alexandra Minnard, Eugenie Rodrigue, Camille Scandurro, and Olivia Singleton.
Row 6: Madigan Spiers, Isabela Tablan, Kathryn Valldejuli, Madelyn Waguespack, Anne Marie Wherritt, Chloe Whitcomb, Haley Williams, Ahjah Yunusah, and Cecelia Zimmermann.
Not pictured: Madelyn McGovern, Grace Schaumburg, and Catherine Ward.