At St. Mary's Dominican High School 49 students were inducted into the National Honor Society. Membership into a National Honor Society is based on the four pillars of character, scholarship, leadership and service. Eligibility requirements for membership in Dominican's chapter are: attending school as a junior or senior, maintaining a minimum 3.75 (A) average, demonstrating volunteer or service hours, preserving an excellent record of behavior in and out of school, participating in leadership roles in co-curricular and/or community activities, and a faculty recommendation. Moderators are Charlene Ford and Mazie Stewart.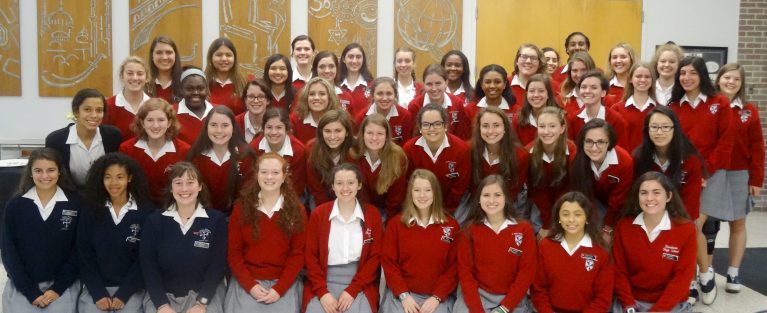 St. Mary's Dominican High School students inducted into the National Honor Society:
Front Row/kneeling, from left: Emma Steeg, Victoria Gillam, Monet Brignac, Rebecca Koenig, Caroline Troendle, Joan Gosciniak, Julia Bogart, Alexandra Gutierrez, and Caroline Hensley.
Second Row: Sofia Hill, Kristen Tholen, Mackenzie Laplace, Rebecca D'Antonio, Maygan Miguez, Emily Johnson, Nina Casanova, Catie Cabes, Sara Gautreaux, Emma Duckworth, and Victoria Cheung.
Third Row: Cole Pittman, Allison Dupre, Abby Webb, Isabelle Poche, Renee Breaux, Sophie Ondrusek, Chloe Mendy, Lili Cerise, Madeline Foret, Caroline Bickerton, and Jeanine Halum.
Fourth Row: Clare Karcher, Kristen Larche, Victoria Liu, Addison Hall, Ann Lafranca, Audrey Buck, Annie Smith, Nia Smith, Bridget Adam, Allison delCorral, Tia Peck, Cameron Berger, Katherine Schaumburg, Melissa Berner, and Susan Endom.
Not Pictured: Elise Peyroux , Savanah Rodrigue, and Abigail Slattery.