Reunions
The Alumnae Office at St. Mary's Dominican High School is here to help you plan your special high school reunion. Please email Celeste Anding, Alumnae Director at alumnae@stmarysdominican.org for the Reunion Planning Guidelines. This tool was created by a team of alumnae for alumnae. A Toast of Praise to you!
Upcoming Reunions – Save the Date!
1981 – 35 Year Reunion
Save the Date of October 7-9, for this 35th class reunion. The celebration will begin Friday October 7, with an informal gathering, continue on Saturday, October 8, on campus, and conclude Saturday Evening at Rock 'n' Bowl. For more details visittheir Facebook page of St. Mary's Dominican High School Class of 1981
1991 – 25 Year Reunion
Plans are underway for this milestone celebration of 25 years. Visit their Facebook page or email Katey Alexander at kalexander@stmarysdominican.org to find out more and assist with the planning.
1986 – 30 Year Reunion
Saturday, October 8th at Rock 'n' Bowl, located at 3016 S Carrollton Ave., NOLA (corner of Carrollton Ave. & Earhart Blvd.). 7:00 pm to 9:30 pm. Possible tour of campus in the morning of October 8th. Details to follow shortly. Please contact Missy Couhig at Missycouhig@cox.net for details.
Class Gatherings
Alumnae from different classes frequently get together informally. We invite you to send us pictures of these gatherings to share with other alumnae. Please email them to alumnae@stmarysdominican.org
Please contact the Alumnae Office to volunteer (504)-865-7823 or alumnae@stmarysdominican.org.
– – – – – – –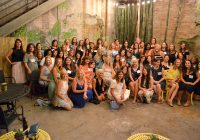 Over 50 members of St. Mary's Dominican Class of 2001 celebrated their 15th anniversary with a reunion at Rebellion Bar and Urban Kitchen in New Orleans. At the reunion, class member Dana Ray presented a $700 check from the Class of 2001 to Alumnae President Katie McGlone '98 (left) and Alumnae Director Celeste Shelsey Anding …Continue Reading
---