Reunions
The Alumnae Office at St. Mary's Dominican High School is here to help you plan your special high school reunion. Please email Celeste Anding, Alumnae Director at alumnae@stmarysdominican.org for the Reunion Planning Guidelines. This tool was created by a team of alumnae for alumnae. A Toast of Praise to you!
Upcoming Reunions – Save the Date!
1971 – 45 Year Reunion
Plans are underway for the 45th reunion of the class of 1971. Please save the date of June 4. If you would like to volunteer, email Kathleen Swiler LaGrange at qtpi52@gmail.com or call her at 504-222-5898.
1976 – 40 Year Reunion
Mark your calendar for June 25, to celebrate 40 years. A mass and reception (for alums only) will take place on campus. You can purchase tickets online here. For more details, email Deborah Nebel Fortenberrry at dgt1104@gmail.com, Rosemary Wheelahan Tunstall at rosemary_w_turnstall@uhc.com, or Charlotte Mancuso Bernard at kbern38089@aol.com.
1981 – 35 Year Reunion
Save the Date of October 7-9, for this 35th class reunion. The celebration will begin Friday October 7, with an informal gathering, continue on Saturday, October 8, on campus, and conclude Saturday Evening at Rock 'N' Bowl. For more details visittheir Facebook page of St. Mary's Dominican High School Class of 1981
1991 – 25 Year Reunion
Plans are underway for this milestone celebration of 25 years. Visit their Facebook page or email Katey Alexander at kalexander@stmarysdominican.org to find out more and assist with the planning.
1996 – 20 Year Reunion
Mark your calendar for Saturday, June 11, 2016, to celebrate 20 years. Plan to attend a family picnic on campus during the day, and then sip champagne in the evening with your classmates and spouses at Apres Champagne Bar! Check out their Facebook page at Dominican Class of 1996 – 20 Year Reunion. Tickets can be purchased here.
2001 – 15 Year Reunion
SAVE THE DATE – Saturday, July 16, 2016, 7 pm – 10 pm, Martine Chaisson Gallery, 727 Camp Street, NOLA, Alums Only, Cost – To Be Determined, Street parking and lot parking available nearby. Email Dana Ray at danarashunray@yahoo.com for more info.
2006 – 10 Year Reunion
The time is here for the Class of '06 to celebrate 10 years. This class is ready to break out that "06 Dance Mix" for a night of drinks, dancing, and reuniting with classmates. Republic New Orleans, 828 South Peters Street, will be the location on Saturday, June 4, from 8:00 p.m. – 11:00 p.m. Tickets include a three-hour premium open bar, food, DJ and photographer + a few other surprises! Follow this link for more information and to purchase tickets. For more information, email Rebecca Gardner at ragardne@gmail.com.
Class Gatherings
Alumnae from different classes frequently get together informally. We invite you to send us pictures of these gatherings to share with other alumnae. Please email them to alumnae@stmarysdominican.org
Please contact the Alumnae Office to volunteer (504)-865-7823 or alumnae@stmarysdominican.org.
- – - – - – -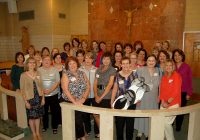 The Class of '74 recently celebrated their 40th reunion with a visit to campus. Members of the Class of '74 attended mass in the Our Lady Queen of the Rosary Chapel, followed by a brunch in Alumane Hall. Click here to see the full photo gallery.
---