Reunions
The Alumnae Office at St. Mary's Dominican High School is here to help you plan your special high school reunion. Please email Celeste Anding, Alumnae Director at alumnae@stmarysdominican.org for the Reunion Planning Guidelines. This tool was created by a team of alumnae for alumnae. A Toast of Praise to you!
Upcoming Reunions – Save the Date!
Class of 2006 – 10 Year Reunion
Reunion will take place on Saturday, June 4, 2016 at Republic New Orleans, 828 South Peters Street, NOLA 70130 from 8:00pm-11:00pm. Follow this link for more information and to purchase tickets.
Class Gatherings
Alumnae from different classes frequently get together informally. We invite you to send us pictures of these gatherings to share with other alumnae. Please email them to alumnae@stmarysdominican.org
Please contact the Alumnae Office to volunteer (504)-865-7823 or alumnae@stmarysdominican.org.
- – - – - – -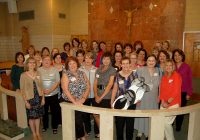 The Class of '74 recently celebrated their 40th reunion with a visit to campus. Members of the Class of '74 attended mass in the Our Lady Queen of the Rosary Chapel, followed by a brunch in Alumane Hall. Click here to see the full photo gallery.
---