Reunions
Upcoming Reunions – Save the Date!
Class of 1974 – 40 Year reunion
Friday, October 17, 2014 – Rock N Bowl. Saturday, October 18, 2014 - DHS Campus, Alumnae Hall. Please email Geri Kolwe at gerikolwe@gmail.com if you have any questions.
Class of 1984 – 30th reunion
Saturday, September 27, 2014, Noon, DominiFan Fest on Dominican's campus. Look for the Reunion Tent – Spouses and Families welcome! For more information join the DHS 194 30 year reunion Facebook group.
Class of 1999 – 15 Year reunion
Plans are underway for the 15 year class reunion for 1999! Please contact Beth Sarbeck Spreen at 504-952-8492 or beth.sarbeck@gmail.com if you want to offer assistance, or if you have any questions.
 - – - – - – -
FUTURE REUNIONS - If you are interested in organizing your class reunion please contact the DHS Alumnae Office! (504-865-7823 or alumnae@stmarysdominican.org)
Class Gatherings
Alumnae from different classes frequently get together informally. We invite you to send us pictures of these gatherings to share with other alumnae. Please email them to alumnae@stmarysdominican.org
Please contact the Alumnae Office to volunteer (504)-865-7823 or alumnae@stmarysdominican.org. The Alumnae Office is here to help plan your class reunion by providing you with a reunion kit, a class list, and address labels for mailing.
 - – - – - – -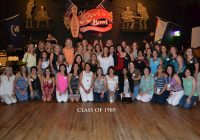 Two reunions in one night!?! Yes, while 2004 was celebrating 10 years on campus, the class of 1989 was celebrating 25 years at Rock 'N' Bowl ™. They started with tours of campus and ended the night with the toe-tapping, gutter-balling, fun filled evening at Rock 'N' Bowl™. Click here for more pictures.
---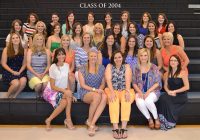 All the memories came rushing back as the class of 2004 returned to campus for their 10-year reunion. These ladies had a wonderful time with food, refreshments, a band, and a photo booth! Click here for more pictures!
---