Reunions
Upcoming Reunions – Save the Date!
Class of 1965 – 50 Year Reunion
Festivities will take place the weekend of October 9 and 10. Details will be sent out shortly. If you have immediate questions, please call the alumnae office at 504-865-7823.
Class of 1985 – 30 Year Reunion
Events will take place at Dominican during the day and at Walk-Ons in the evening of Saturday, September 26, 2015. Please emaildhs1985chair@gmail.com for further information. Click here for the registration link.
Class of 1990 – 25 Year Reunion
Reunion will take place on Saturday, October 10, 2015 at The Oak Bar. For Further information please email Angelle Adams atAngelle.adams@aecom.com
Class of 2005 – 10 Year Reunion
Reunion will take place on Saturday, August 15, 2015 at Aprés Lounge on Fulton Street. Registration link is under Alumnae tab on the St. Mary's Dominican website.
FUTURE REUNIONS - If you are interested in organizing your class reunion please contact the DHS Alumnae Office! (504-865-7823 or alumnae@stmarysdominican.org)
Class Gatherings
Alumnae from different classes frequently get together informally. We invite you to send us pictures of these gatherings to share with other alumnae. Please email them to alumnae@stmarysdominican.org
Please contact the Alumnae Office to volunteer (504)-865-7823 or alumnae@stmarysdominican.org. The Alumnae Office is here to help plan your class reunion by providing you with a reunion kit, a class list, and address labels for mailing.
 - – - – - – -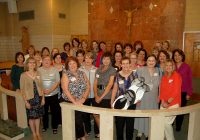 The Class of '74 recently celebrated their 40th reunion with a visit to campus. Members of the Class of '74 attended mass in the Our Lady Queen of the Rosary Chapel, followed by a brunch in Alumane Hall. Click here to see the full photo gallery.
---