Reunions
The Alumnae Office at St. Mary's Dominican High School is here to help you plan your special high school reunion. Please email Celeste Anding, Alumnae Director at alumnae@stmarysdominican.org for the Reunion Planning Guidelines. This tool was created by a team of alumnae for alumnae. A Toast of Praise to you!
CLASS OF 1982 – 35 YEAR REUNION
March 24th and 25th, 2017 – Friday, March 24th, 8:30 pm, Class of '82 Girls' Night Out, Rock'n'Bowl, 3016 South Carrollton Ave, Meet up for fun, music and dancing! $10 Cover if band playing, Cash Bar. No RSVP required. Saturday, March 25th, 7:00 – 10:00 pm, Class of '82 Reunion, Apres Lounge on Fulton, 608 Fulton Street, Admission $65 per person. Link to RSVP. Dressy-Casual attire (no shorts or jeans) Appetizers; open bar; fun 80's music. Reunion updates will be emailed periodically as well as posted to our class Facebook page – "St. Mary's Dominican High School Class of 1982." Questions? Contact Maureen Eames at 504-578-0126, maureen31764@gmail.com.
CLASS OF 2007 – 10 YEAR REUNION
Saturday, July 8, 2017, Rock 'n' Bowl (3016 South Carrollton Ave), 7:00 pm – 9:30 pm, $55 per person, Food and drinks will be included in the ticket price. Link to RSVP. *There will be band playing after the reunion-if you want to stay and hang out at Rock 'n' Bowl, your cover will be waived, but you will be responsible for any drinks post – 9:30 pm.*
Class Gatherings
Alumnae from different classes frequently get together informally. We invite you to send us pictures of these gatherings to share with other alumnae. Please email them to alumnae@stmarysdominican.org
Please contact the Alumnae Office to volunteer (504)-865-7823 or alumnae@stmarysdominican.org.
– – – – – – –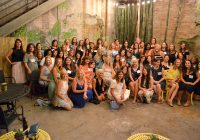 Over 50 members of St. Mary's Dominican Class of 2001 celebrated their 15th anniversary with a reunion at Rebellion Bar and Urban Kitchen in New Orleans. At the reunion, class member Dana Ray presented a $700 check from the Class of 2001 to Alumnae President Katie McGlone '98 (left) and Alumnae Director Celeste Shelsey Anding …Continue Reading
---