Debs
Debs (Dance Team) holds try-outs each spring. Incoming 8th and 9th graders may try-out for Debs in the Spring before their entry to DHS. Try-outs will be posted on the DHS website. Please check the website for more information.
Have you heard?
The Dominican Debs are overall State Champions in Team Hip Hop. Team Hip Hop placed 1st in Division 3 and received awards for choreography and technique. Team Jazz placed 2nd in Division 3 and 4th overall in State. Team Pom placed 2nd in Division 3 and 3rd overall in State. The Jazz ensemble came in 2nd place in State and the Hip Hop ensemble came in 3rd place in State.
The Debs perform at Brother Martin High School football games and compete with their band at LMEA band festival. They perform for DHS pep rallies, Brother Martin pep rallies, DHS basketball games and Brother Martin basketball games. The Debs march in parades with the Dominican band, color guard and cheerleaders as well as the Brother Martin band.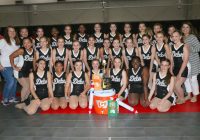 The Dominican Debs brought home several awards from the June 15-18 Universal Dance Association Camp in New Orleans. Among their wins: Superior rating given in recognition every Deb earning blue ribbons in their evaluations; Leadership Award, voted on by other teams; Spirit Stick, plus a special Spirit Stick awarded to them from another team; Members …Continue Reading
---