Robotics
The Robotics Organization is two-tiered: The Robotics Club and The Robotics Team.
The Club meets during the day on Club Days. It is designed for students that desire an intro to robotics without attending after-school meetings. It comprises of 8th to 12th graders. 8th graders will build with the EV3 robot and 9th to 12th graders will use the VEX robot.
The Team meets twice a week after school. There are two teams: an 8th grade team and a 9th – 12th grade team. The FLL Team "Dominibots" is for 8th graders that wish to explore the world of LEGO robotics and travel to fun competitions. The VEX Team "RoboGirls" is for 9th – 12th graders who work with a team to build, program, and control a VEX robot. Learn skills to take to competitions and compete with other teams.
 (Pictured) The VEX Team "RoboGirls"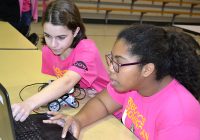 Dominican was the host site for a Robotics Fast Start prep session. Members of Dominican's Robotics Team helped students from area grammar schools prepare for the year's First Lego League competition that will have the theme, Animal Allies. The competition will focus on how animals and humans can help one another. The Dominican team assisted with …Continue Reading
---